STEM Students Show Off at Annual Showcase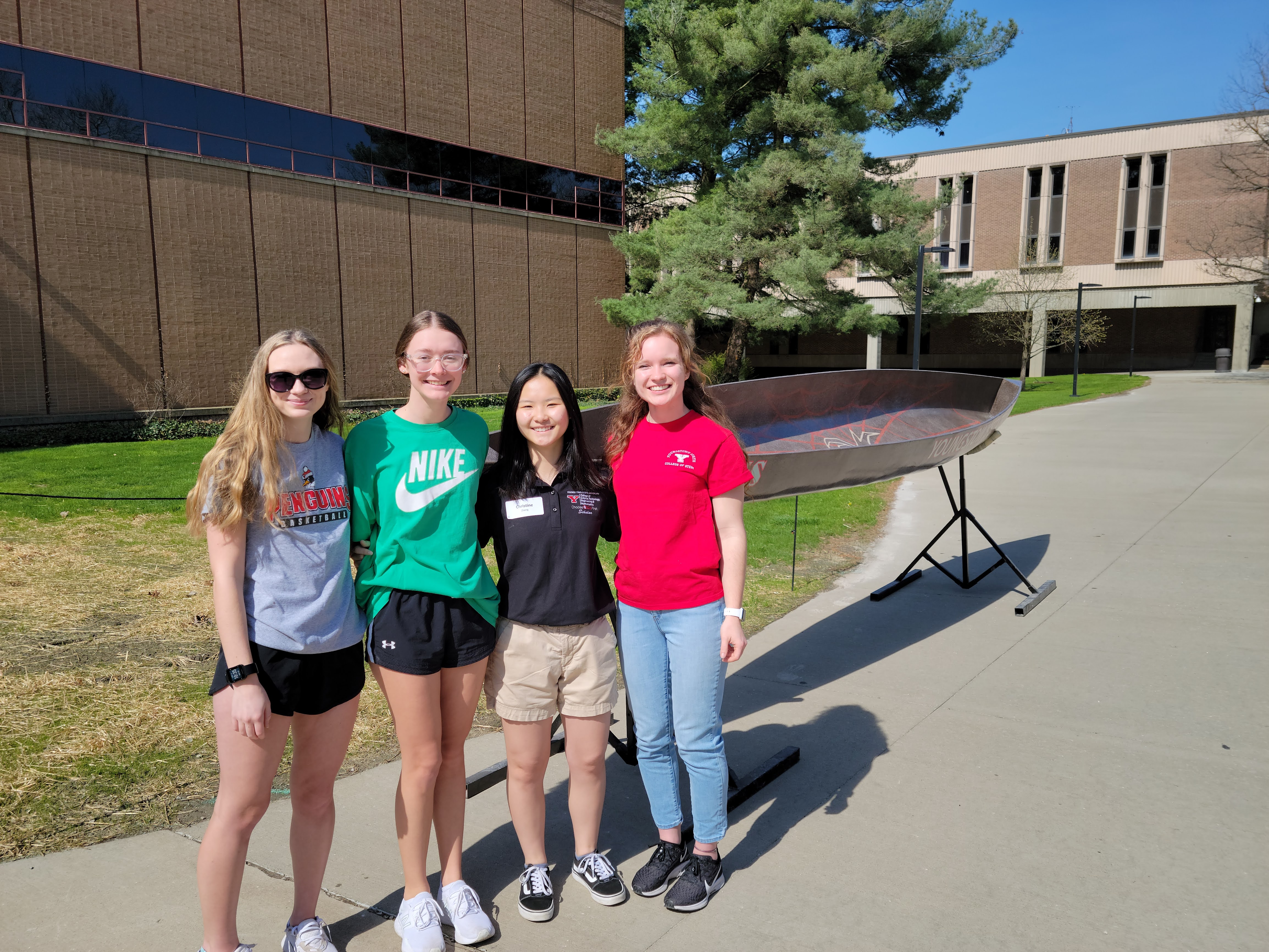 Pictured above: Concrete Canoe Team members pose by this year's canoe
April 23, 2022 saw the return of the STEM Showcase to campus.
Over 50 student projects were on display in and around Moser Hall for the first in-person STEM Showcase since 2019. YSU students, their families, community members and prospective students were invited to see the hard work our students have been doing. 
One team, comprised of Dominic Clutter, Erica Barney, and Giovannie Sarachine, worked with a local chocolate company for their senior capstone project. The company was looking for a better way to coat nuts with chocolate, as the current process is very labor intensive. You wouldn't believe how much processing goes into making chocolate covered peanuts! The students designed a new, more automated process to present to the company.
Many of the STEM competition teams had their work on display, including the Lunabotics Rover, the Concrete Canoe, Baja Car, Battle Bots and Rocket. Several of the teams have recently competed in or are preparing for national and international competitions. You can click the link to read more about the concrete canoe and baja car seasons.
A number of projects focused on scientific and mathematical issues. One team used mathematical models to see if they could predict the spread of COVID-19. A team of first-year students compared the pitch of 3D printed instrument mouth pieces to traditional mouthpieces and found that 3D printed ones could be a viable (and much less costly) substitute! A chemistry student worked on a project to see if contaminates could be removed from water using hydrophobic metal-organic frameworks created in the lab.
Our students and faculty are doing amazing things every day! You can check out these projects and more by visiting the 2022 STEM Showcase Website.
Pictured below: Students talk to visitors about their NASA Lunabot design