YSU STEM Intern of the Year: Cole Sexton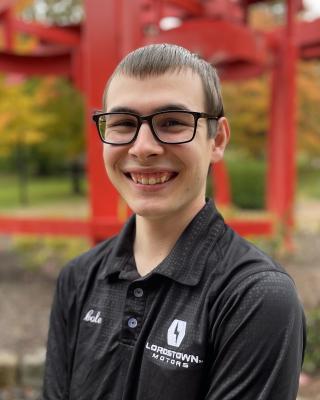 Cole Sexton is a fourth-year undergraduate student majoring in Chemical Engineering and minoring in both Mathematics and Chemistry. During the summer of 2021, he interned with Lordstown Motors to learn about the automotive industry. Cole worked in the Paint Shop of the plant. It was here where he was assigned his project to guide the installation of new process equipment. Using only skills acquired from projects completed in coursework and applying interpersonal communication skills, he was able to successfully work with different contractors and different departments in the Paint Shop to get the process equipment operational. He then was given the opportunity to learn how the equipment works and was able to train Team Leads and Lordstown Associates on proper operations.
Cole was also given the project to improve the water flow that leads into the paint booths. After troubleshooting the potential causes of this inhibited flow, it was determined that the pipes leading to the booths were in need of maintenance. Cole was tasked with gathering a team to take down these pipes and have them cleaned and rehung. Once the pipes were cleaned out, the water flow in the paint booths improved, and paint quality improved. At Lordstown, Cole was able to grow both professionally and personally, improving on his communication skills and leadership skills, as well as learning a lot about how the automotive industry works. Lordstown Motors was a unique and invaluable experience for Cole due to the company still being in their startup phase, something many interns do not get a chance to experience firsthand.
At YSU, Cole is part of the American Institute of Chemical Engineers, Tau Beta Pi, and the ChemE Car team. ChemE car recently went to the National conference in Boston. He has also had the honor of being on the Dean's List every semester and even several appearances on the President's List. Cole is also a member of the Choose Ohio First Scholarship Program and does research within the Chemistry department under Dr. Chris Arntsen. His research focuses on simulating the mechanical properties of semiconducting polymer systems. He has presented his research at various events each year such as the STEM Showcase and the annual Choose Ohio First conference.
After graduation, Cole plans to find a career in industry.