YSU Penguin Baja Racing Team Cracks Top 10 Internationally!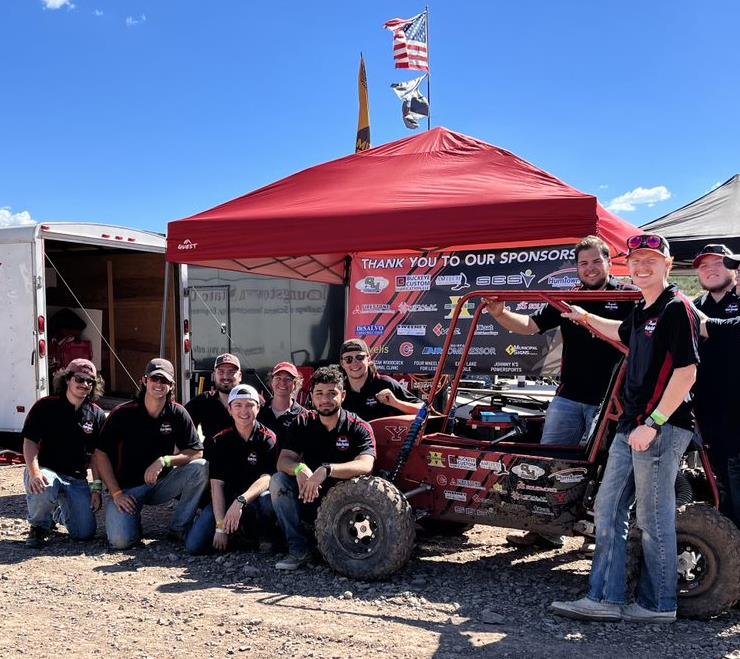 Pictured above: YSU Penguin Baja Racing Team Members pose at the Arizona competition with this year's vehicle
The YSU Penguin Baja Racing Team recently finished the 2022 Racing Season in 9th place overall at the international competition hosted at the Caterpillar Proving Grounds in Green Valley, AZ; their first ever top 10 finish. Paving the way to this success were five top 10 finishes in the individual events: 1st place in the Business Presentation, 2nd place in Sled Pull, 4th place in Engineering Design and Overall Static Events, and 6th place in Overall Dynamic Events. The team also had their best finish to date at 15th place in the four hour Endurance Competition. The Mechanical Engineering seniors on the team are currently working on a vehicle design for the 2023 season which begins in May in Oshkosh, Wisconsin. At the same time, the entire team is looking for interested individuals majoring in any discipline to join the organization. Team meeting are held in Moser 2000 on Mondays at 5:00PM. For more information, contact the team by email at PenguinBajaRacing@gmail.com. 
Read more about the team and learn about sponsorship opportunities here.