Williamson STEM Summer Research Interns Showcase Projects to Community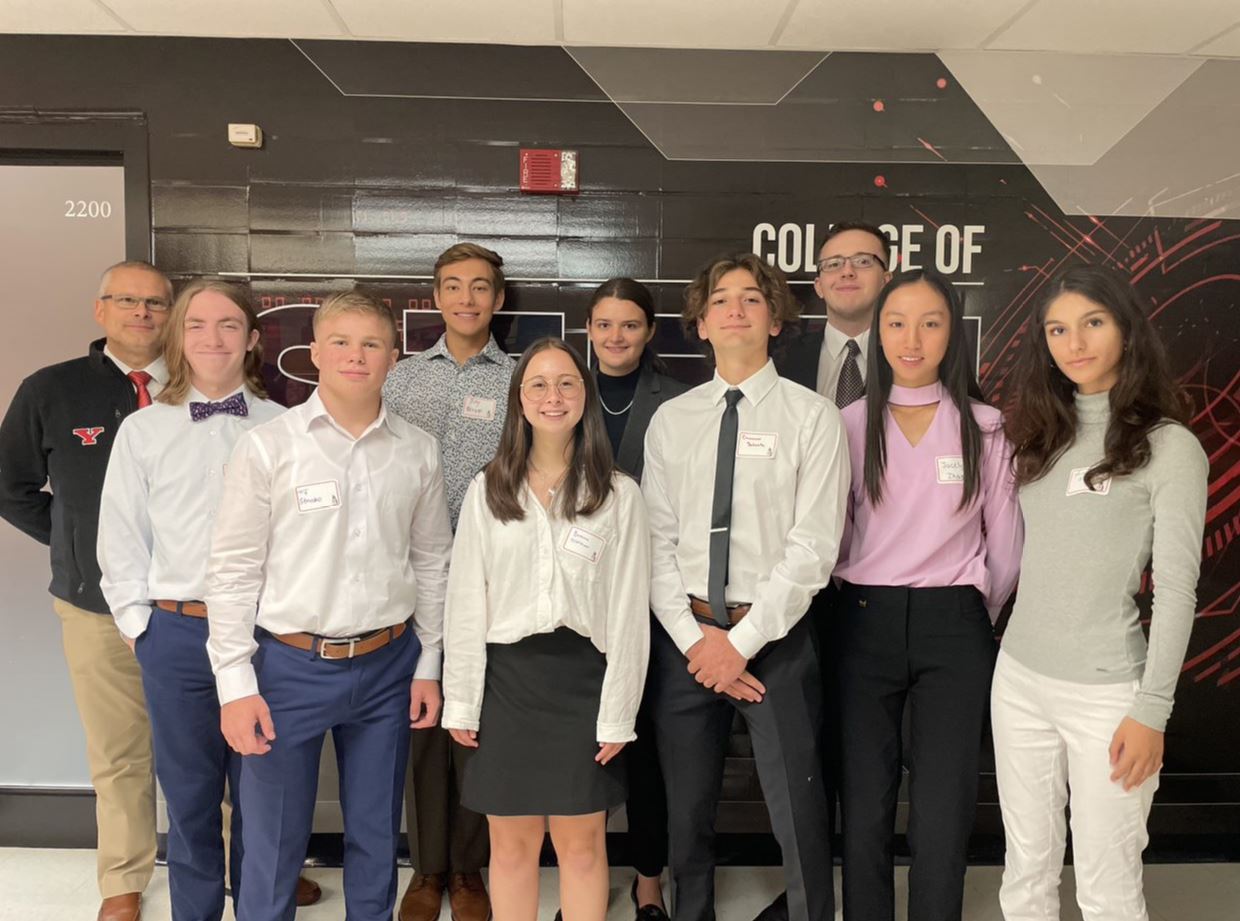 Pictured Above: Williamson STEM Summer Research Interns Pose with Dr. Steelant
A generous donation from Mr. Warren P. "Bud" Williamson enabled 10 area high school students to work for 7-weeks on active research projects under the mentorship of 5 YSU STEM faculty.

A casual conversation between Dean Wim Steelant and faculty of the Canfield School district during a STEM field trip led to a partnership between the two schools to pilot a summer research internship program for high school students. The hope was to engage and excite students about opportunities in STEM even before beginning college, leading to better returns and retention down the road. By the time the program kicked off, 10 students had been identified to participate: 7 from Canfield; 1 from Poland; 1 from Austintown; and 1 from Western Reserve.
As interns, each of the students was required to be accepted into the College Credit Plus program so that they could enroll in a STEM Internship class to receive credit on their college transcript for their work. Each student was paid for hours worked and also received guidance from STEM Professional Services regarding career documents like resumes and cover letters. 
The students selected their preferred research mentor and, at the end of the 7 week period, interns presented their work at a research showcase to the STEM community as well as local community stakeholders.
Below is a listing of the research mentors, team members, and project titles: 
Dr. Michael Crescimanno (Physics) and Joseph Gorkos (Poland Seminary)
Circuit Chirp Asymmetry
Dr. Chet Cooper (Microbiology), Dylan Aubel (Canfield) and Ray Bernat (Canfield)
Characterization of Enterococci Isolated from Lake Newport (Mill Creek)
Dr. Holly Martin (Chemical Engineering), Jessie Johnson (Austintown Fitch) and Anthony Meranto (Canfield)
Reducing Steel Corrosion Using Chitosan Coatings Seeded with Two Different Inhibitors
Dr. Jill Tall (Animal Behavior), Nursen Arslanyilmaz (Canfield), Brianna Norman (Western Reserve) and Crescenzo Scheetz (Canfield)
A Retrospective Study Assessing the Quality of Reporting Materials and Methods in the Preclinical Behavioral Neuroscience Literature
Dr. Feng Yu (Computer Science), Ty Stricko (Canfield) and Jocelyn Zhao (Canfield)
Using Machine Learning for Fashion Image Classification
Pictured Below: Ty Stricko and Jocelyn Zhao show their research poster