STEM College Announces Interim Associate Dean, Director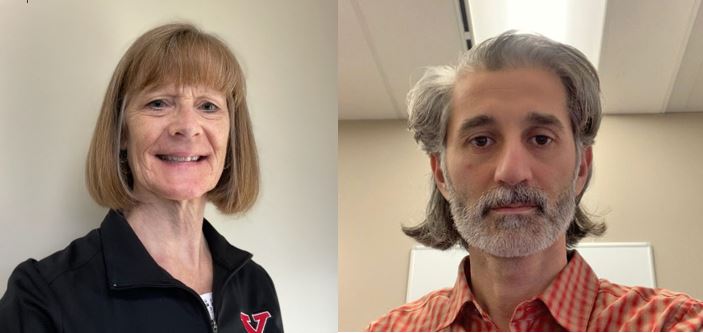 Pictured: Dr. Carol Lamb (left) and Dr. Abdu Arslanyilmaz (right)
Dr. Carol Lamb has been named Interim Associate Dean of the College of STEM, beginning July 1, 2022. Dr. Lamb previously served as Director of the School of Computer Science, Information, and Engineering Technology. Her promotion created a vacancy in that unit, which has elected Dr. Abdu Arslanyilmaz to take her place.
Dr. Carol Lamb, Interim Associate Dean
With her background in civil engineering and project management, Dr. Carol Lamb has worked with many local industries to develop student learning experiences, including the annual Builders Association estimating competition. During her 18 years at YSU, Dr. Lamb has served in many capacities, including program coordinator for drafting and design and for civil and construction engineering technology. She served as department director for 9 years. Additionally, she has served the university as Academic Senate secretary and vice-chair. Dr. Lamb is also a member of the American Society for Engineering Education, for which she served as chair-elect (2018-2020) and Chair (2020-2021), and received the James H. McGraw Award for outstanding service in engineering technology education in 2021.
In her new role as Interim Associate Dean, Dr. Lamb is looking forward to learning about and working with all of the STEM units and faculty as we continue to move the STEM College forward in ensuring our students have access to and gain the knowledge to be successful in their chosen profession. Her goal as she gains new insight into the administrative side of the university is to continue to assist, serve, and represent the STEM college and faculty to the best of her ability.
Dr. Abdu Arslanyilmaz, Director, School of Computer Science, Information & Engineering Technology
Originally from Turkey, Dr. Arslanyilmaz received his Bachelor's in Computer Science Education in Turkey, Master's in Information Systems & Learning Technologies at the University of Missouri - Columbia, and PhD in Educational Technology at Texas A & M University - College Station. Upon receiving his PhD in 2007, he came to YSU as an Assistant Professor in Computer Science & Information Systems (CSIS). He has served as program coordinator for the Information Technology undergraduate program for several years and, for a few months before the departments were restructured, served as Acting Chair of the Department of Computer Science and Information Systems.
Dr. Arslanyilmaz's research has focused on the design, development, and evaluation of software for education and training, computational thinking, and autonomous transportation and smart traffic. He has published over 20 peer-review articles, made in excess of 30 international conference presentations, and received external grants as a PI totaling over $300K.
Dr. Arslanyilmaz has been recognized for his hard work, receiving awards such as: distinguished prof. award in research & teaching, research professorships (3 times!); best paper awards for conference presentations; a journal cover story for a published article; and best design and development award for a language learning software. In 2020, as the PI, he received a competitive NSF grant to design a computing curriculum for students with ASD, implement it, and test its effectiveness.
In his new role as Director of the School of Computer Science, Information & Engineering Technology, Dr. Arslanyilmaz hopes to increase the visibility of our undergraduate programs in these areas. He would also like to establish some formal relationships with industrial and educational institutions to benefit all constituents. Finally, he looks forward to expanding the CIS graduate program online course offerings.
Congratulations to Dr. Lamb and Dr. Arslanyilmaz!