Kyle Duke Named Ohio Space Grant Consortium Graduate Fellow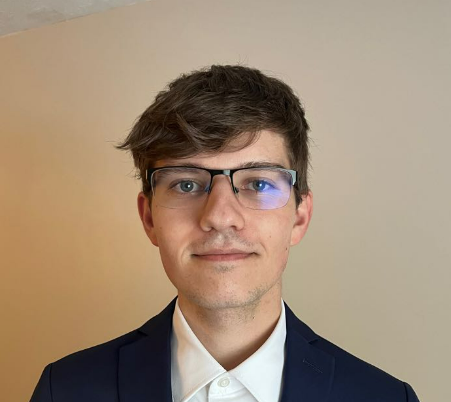 Pictured above: Kyle Duke
Kyle Duke, first-year graduate student in Chemical Engineering, was recently selected as a recipient of the prestigious Ohio Space Grant Consortium (OSGC) Graduate Fellowship. The Fellowship funds $20,000 toward Kyle's masters degree and only 3 to 4 awards are given each year throughout the entire state.

As part of the fellowship, Kyle will pursue research in the area of smart wound dressing, working with Dr. Byung-Wook Park, assistant Professor of Chemical Engineering at YSU. These dressings are able to detect the condition or severity of a wound and react accordingly to speed up the healing process or alert if the wound is not healing properly or infection sets in. Kyle is specifically working on the fabrication of the sensor for the dressing that detects the condition of the wound. Along with Dr. Park, he is developing a flexible and wearable bioelectronic device using an innovative electrode design and electromechanical impedance spectroscopy that has the ability to detect various biomarkers, particularly for the human stress hormone cortisol. Kyle will present his work at an annual symposium sponsored by the OSGC and could be eligible for a second year of funding if he meets the first year requirements.

Kyle is very grateful for the opportunity to worry less about money and be able to focus his time and energy on his research. Congratulations, Kyle!