Fall 2022 Off to a Busy Start!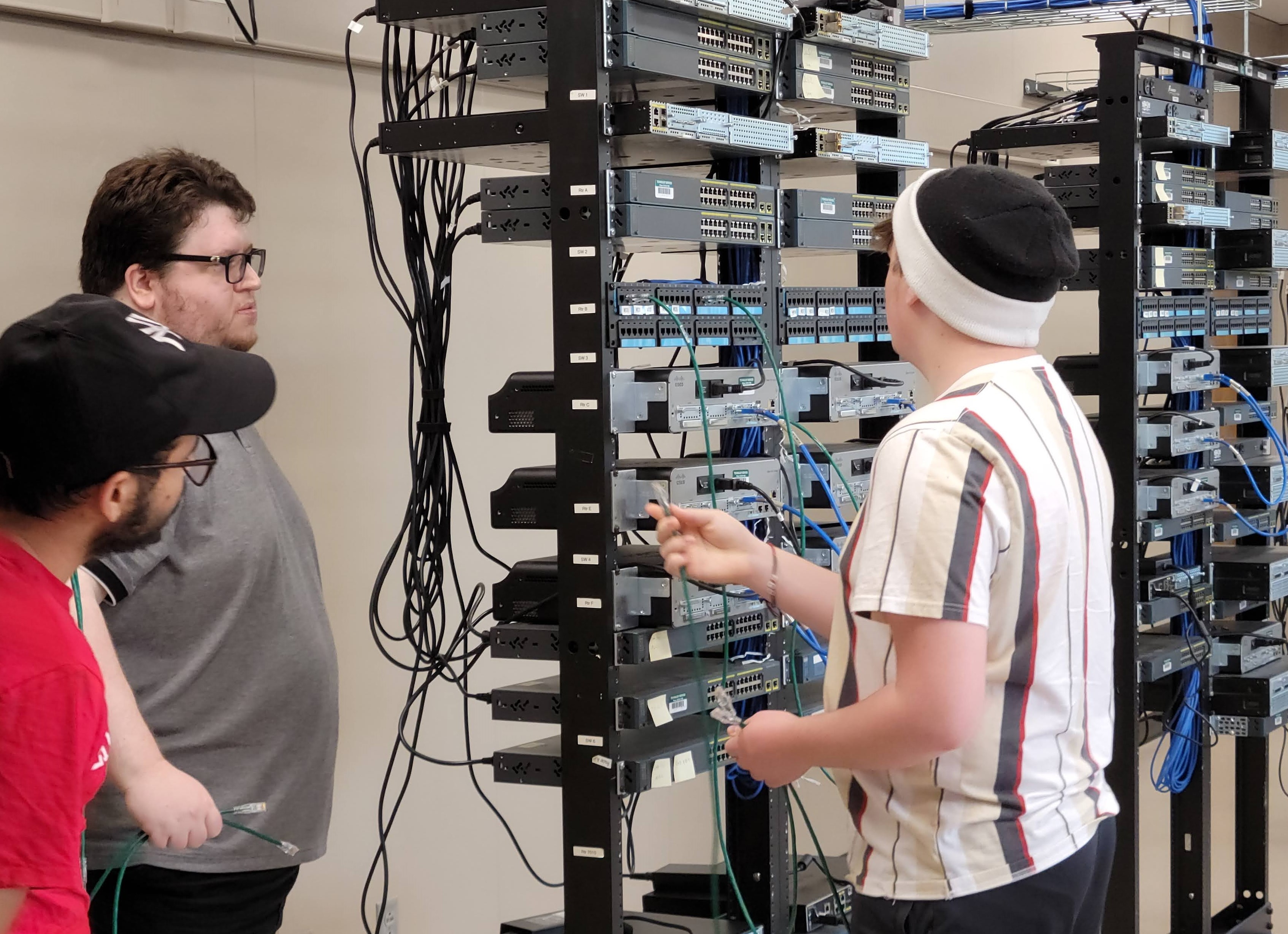 Pictured above: A student connects network cables at a technology day workshop
It has been a busy and exciting start to the year in STEM! Since the beginning of the semester we:
•    hosted hundreds of new STEMguins at our STEMfest kickoff
•    participated in the OhWOW Silly Science Sunday Festival
•    organized events to expose high school students to careers and opportunities technology and in manufacturing
•    held our largest STEM Expo EVER with over 125 companies in attendance
•    hosted three field trip groups with more in the works!
Read on for highlights!

Silly Science Sunday

Sunday, September 18th was the absolute perfect day for OhWow's annual Silly Science Sunday celebration! The sun was shining and the sky was blue as thousands of young children and their families explored STEM in all it's various forms. Admission to the festival and to OhWow was free for the special event.
The STEM College hosted a tent, staffed by our STEM student organizations. Hands-on activities included making DNA with candy (Forensic Science Club), chemistry demonstrations (American Chemical Society), making ooblek (STEM Leadership Society), and testing density on a race car ramp (Institute of Industrial and Systems Engineers). The Rocket Club also had some rockets on display and the Baja team brought out their car for visitors to sit in.

Technology Day

There is a growing and urgent need for people in computer and technology fields, but even students with a general interest in these areas may not know how they can turn that passion into a career. The STEM College organized Technology Day to help bridge this gap and expose high school students to opportunities and career fields in technology through demonstrations, hands-on activities, and employer networking.
See coverage of the event in the Business Journal.
If you're interested in attending next year's event, contact Emilie Brown at egbrown02@ysu.edu

Manufacturing Day

A career in manufacturing is no longer the tough and labor-intensive job that it used to be. Today's employees are highly-skilled and career pathways are available in degreed and non-degreed areas. At Manufacturing Day, high school students learned about opportunities in both options. They also got a first-hand look at the equipment available at YSU's Excellence Training Center, including testing out a 3D mouse, haptic feedback pen, and playing tic-tac-toe with robots! Over a dozen area employers also talked to students about what their companies do and what kind of positions they have available for future employees.
See coverage of the event in the Business Journal.
If you're interested in attending next year's event, contact Emilie Brown egbrown02@ysu.edu
Pictured below: A student tries the haptic feedback pen at Manufacturing Day