2022 STEM Intern of the Year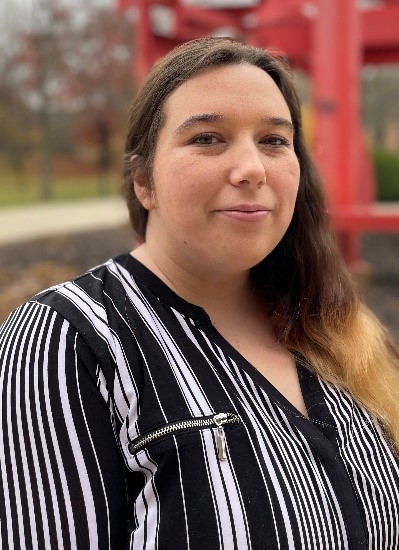 Pictured above: Mackenzie Martin
Mackenzie Martin is a fourth-year undergraduate student at Youngstown State University (YSU). She is majoring in Information Technology with her focus being software engineering and minoring in Social Media Campaigning. During the fall of 2021 and the spring of 2022, she interned with the University of Texas at El Paso's Aerospace Center to learn about the Aerospace industry. She worked on the 6 degrees of freedom robotics arm team, one of the many teams located within the center's CubeSat Nasa teams, working virtually from home. It was here that she was assigned to be the team's main software engineer, with the end goal to create a virtual environment and virtual simulation of their designed robotic arm in a predefined space environment for implementation and design testing. 

After the spring semester was over, Mackenzie was then given the opportunity to partake in the Pentagon X Force Fellowship in the summer of 2022, pairing her up with the Fleet Readiness Center's Navy base in San Diego. Using the knowledge that she had gained through UTEP, she was assigned as the leader of their 3-person team, focusing on creating a 2D application to help the base better visualize their stack prediction points for rotor balancing. Unity was utilized for the application development, and the product was created and delivered to the Navy base by the end of the summer. She and her teammates had the opportunity to visit the base in San Diego and made lasting connections with many of the engineers there. 

At UTEP and through the Pentagon, Mackenzie was able to grow both professionally and personally, improving her communication and organizational skills, as well as learning a lot about the individual components needed in the Aerospace industry and the vast amount of different jobs needed for implementation and testing. UTEP was a unique and invaluable experience for Mackenzie due to her being one of the first YSU students to ever take part in the UETP internship and being part of the foundation for future interns to come, and the Pentagon Fellowship allowed her to make connections that she would have never had and experiences she would have never experienced.

At YSU, Mackenzie is part of the National Society of Collegiate Scholars, the Youngstown State Computer club, and an annual participant of Hack YSU. Through her internship, she has presented her findings at the Southwest Emerging Technology Symposium (SETS) in El Paso Texas. She has also had the honor of being on the dean's list for the past four semesters and has appeared on the president's list the last three times. 

After graduation, Mackenzie plans to find a career in the Aerospace industry.