Student success at the Spring 2022 STEM Expo!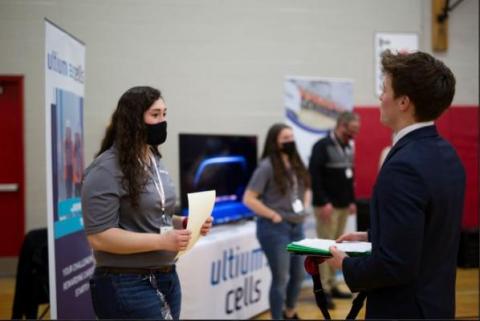 Last month, STEM students and alumni geared up for another hybrid (face-to-face and virtual) STEM Expo hosted by the STEM Professional Services, Careers, Internships and Co-ops office. The Office felt the hybrid event was still the best option to accommodate employers and provide as many opportunities as possible for students and alumni. On February 24, students traveled to Stambaugh Stadium for the event. The format of the event was the same as fall, where the face-to-face portion was held in Gymnasiums A-C and the virtual portion was held in the DeBartolo Stadium Club. Students had the ability to move back and forth between the two sections. Exciting new additions to the event included free professional headshots for students and the opportunity for student organizations to table.
A total of 83 local and national employers connected with our students and alumni, 71 attended face-to-face and 12 attended virtually. Employers met with students and alumni to provide information on their organizations and discuss potential openings for internships, co-ops and full-time positions. In total, 295 students participated in the Spring 2022 event. For the virtual portion specifically, students participated in 77 1:1 sessions and 22 students attended group sessions.
Thank you to Butech Bliss, Ultium Cells and Hynes Industries, sponsors of the Spring 2022 STEM Expo, for their continued support of STEM career programming at YSU and to all of the employers who participated in the Spring 2022 F-2-F/Virtual STEM Expo. Additionally, thank you to the volunteers who helped make this event a success.
Save the date for our 2022-2023 STEM Expos: September 29, 2022 & February 23, 2023!