Over 80 Students Participate in Regional Choose Ohio First Poster Symposium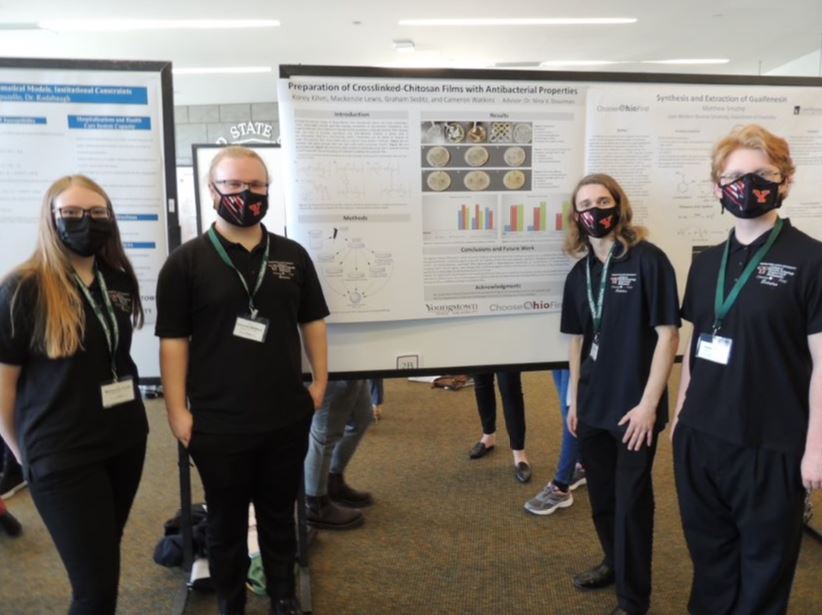 Picture Above: Mackenzie Lewis, Cameron Watkins, Graham Seditz, and Korey Kihm worked under the guidance of Dr. Nina Stourman
Two YSU Choose Ohio First research groups were awarded "Top Poster" commendations at the Northeast Ohio Regional Choose Ohio First Scholarship Program Poster Symposium held on April 10 at Cleveland State University. One group, led by Dr. Nina Stourman, Associate Professor of Chemistry, investigated antibacterial properties of crosslinked chitosan composite films. Another group of first-year pre-nursing majors, led by Dr. Nancy Wagner, Professor and Director of the Centofanti School of Nursing, surveyed residents of senior living communities on the effects of COVID-19 on the elderly. 
In total, eighty-four YSU students participated in the event along with Choose Ohio First students from Cleveland State University, Cuyahoga Community College, Case Western Reserve University, University of Akron, John Carroll University and Notre Dame College. These schools host the symposium annually for students in the Choose Ohio First Scholarship Program. Over 170 abstracts were submitted and approximately 350 students attended this year's conference. 
The Choose Ohio First Scholarship Program is funded by the State of Ohio to promote STEM Careers to Ohio students. A lack of a STEM-trained workforce provides a critical need to recruit and retain more students in related fields. More information on the program can be found here. To learn more about Choose Ohio First at YSU, please contact Coordinator Emilie Brown at egbrown02@ysu.edu or 330.941.2884.
Pictured Below: Trevor Strohmeyer, Ava Spano, Grace Eucker, and Kelsey Hackstedde comprised the team of nursing students led by Dr. Nancy Wagner