JCPenney helps students dress for success!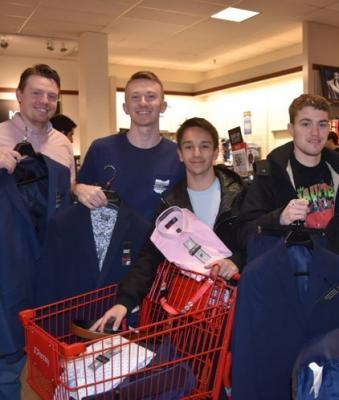 Pictured: YSU Students take advantage of the JCP Suit-Up Event for huge discounts on their professional wardrobe
Professionalism and career-related skills span far beyond finding experiential learning and full-time opportunities. As a college student or working professional, it can be difficult to keep a professional wardrobe up to date for the right price! Over the past 4 academic years, YSU's three career offices – Williamson College of Business Administration Center for Career Management, STEM Careers, Internships & Co-ops and Office of Career Exploration and Development – have been hands on in helping the YSU community dress for success! Each year, YSU partners with JCPenney to host two Suit-Up events, providing students, faculty and staff with an additional 30% off in store or online towards career clothing and related-accessories. YSU community members are also permitted to bring guests.
The first YSU JCPenney Suit-Up Event was held in October 2018 at the Eastwood Mall location in Niles. Since Fall 2018, the career offices have hosted the event biannually for students. In Spring 2020, the event moved to a second location, JCPenney at Southern Park Mall in Boardman, to appeal to more students closer to the area. Currently, the event alternates between JCPenney in Niles and Boardman. Last Sunday, March 27, 2022, YSU had 113 students attend the 7th Suit Up event at JCPenney at Southern Park Mall in Boardman, Ohio. This number does not reflect the number of guests, faculty and staff that also took advantage of this opportunity.
Keep an eye out for our next JCPenney Suit-Up event this Fall 2022!