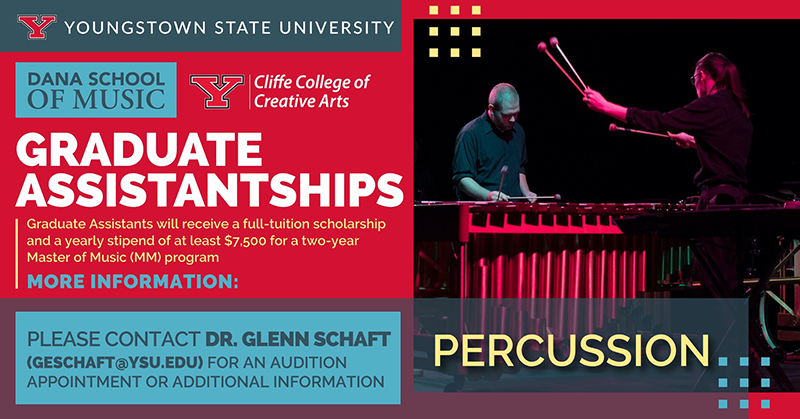 Graduate Assistant in Percussion
Appointment: begins August 15, 2022, 2022-23 Academic Year
Stipend: $7500, paid over 9 months, waiver of tuition and out-of-state fees
Renewal: Assistants are generally eligible to receive two years of support pending an annual performance review as a student and instructor.
Responsibilities: Instructor/Arranger for Marching Pride Drumline, Assist Percussion Coordinator and Percussion Faculty with Instruction of Percussion Methods Class, Percussion Ensemble, Entrance Auditions, Jury Exams, Ensemble Placement Auditions, Recital Hearings, and writing Percussion Ensemble Concert Programs.
Required Qualifications: Bachelor's Degree in music from an accredited institution. Admission to Youngstown State University Graduate School and Dana School of Music Percussion Studio. Percussion Ensemble and Marching Band performance experience. High levels of proficiency must be demonstrated through audition repertoire of the candidate's choice. Preference is given to candidates who demonstrate versatility across various instruments and genres. Demonstrate ability to arrange for marching percussion (cadence or show excerpt) via submission of scores and MP3 recordings.
Application Procedure:
                  1. Complete Graduate School Application
                  2. Complete Graduate Assistantship Application.
                  3. Applicants will be pre-screened based on resume, application letter, and marching percussion scores and MP-3 recordings. Send materials to Glenn Schaft. Dana School of Music, Youngstown State University, One University Plaza, Youngstown, OH  44555
                  4. Select candidates will be invited to an on-campus performance/teaching audition for admission to the Dana School of Music. The itinerary will include an audition, interview, and teaching a private, group lesson, or percussion ensemble rehearsal. Bring a copy of audition music.
Application Deadline: Review of applications and pre-screening materials will begin immediately and continue until February 15, 2017. Select finalists will be invited to campus late February through early March.
The Dana School of Music, consisting of approximately 250 music majors, 25 full-time and 31 adjunct faculty, offers the Master of Music degree with concentrations in Performance, Jazz Studies, Music Education, History, Theory/Composition, and Conducting. Percussion majors are encouraged to personalize their applied curriculum to facilitate their career interests. DSM is fully accredited by the National Association of Schools of Music.
Inquires:
Glenn Schaft, DMA
Percussion Coordinator, Professor of Music
Dana School of Music, Youngstown State University
One University Plaza, Youngstown, Ohio 44555
geschaft@ysu.edu 330.941.3643
Youngstown State University is an equal opportunity/affirmative action employer.